Laminate Veneers General Overview
---
Duration of Intervention
1-3 Hours
Return to Social Life
2 Days
Average Pain After 3 Days
0-1 *
*Pain rating scale: from 0 = absence to 5 maximum pain
Laminate Veneers
Laminate veneers, also known as hollywood smile and dental laminate is a dental aesthetic treatment. It is done with the aim of a better appearance by placing thin veneers on the front side of teeth.
What are the types of laminate veneers?
Laminate veneers can be porcelain or composit. Porcelain laminates are prepared in laboratory by the dentist. Whereas composit laminate veneers are pre-made and directly applied. Composit veneer treatment can be completed in one day, however porcelain laminate veneer treatment can take up to a week due to laboratory preparation.
All the dimensions and calculations of the patient's mouth is transmitted into a PC in order to prepare the product. It requires special attention, professionalism and gives a better result. For this reason the price of porcelain veneers are usually different from the composit ones.
Laminate veneers are as successful as dental bonding(composit veneers) treatment. As laminate veneers have a stronger and smoother material, they are likely to last longer than bonding. Most of the time, patients first choose composit veneers for their price and then in the long term they decide to change it to laminate veneers.
Who can have laminate veneers?
It is a great solution if you are not happy with the shape or appearance of your teeth. Especially it is widely preferred by those who have crooked, broken, separated or discolored teeth. They are very reliable in terms of appearance, since they are very thin and do not contain any metal. They have transparency which makes them look as natural as your original teeth. Laminate veneers do not require any anesthesia or incisions. They are directly adhered onto the teeth without any change of shape. It can be preferred especially by those who do not want to have a orthodonty treatment as it is a long term treatment.
What is Lumineers? How is it performed?
Lumineers is a new dental treatment technique developed in the US. It is produced by the brand Lumineers and which gives a better and more natural result in a short period of time thanks to its material. Unlike the other techniques, Lumineers is such a minimal treatment that does not require any needle, incision or tooth reducing. They are simply attached onto the teeth.
However, if your teeth structure is not suitable for lumineers, a small adjustment or re-shaping of your teeth is possible before applying lumineers.
What is eMax Full-Porcelain veneers?
Emax is actually the name of the brand that makes full porcelain veneers. It is completely made of porcelain by utilizing 3D scanners (cad-cam) to design virtually. Porcelain is not powderized, it is in pre-shaped molds which makes them much stronger comparing with other versions. They do not have any metal compound, therefore they can be produced as very thin sheets which gives a natural look.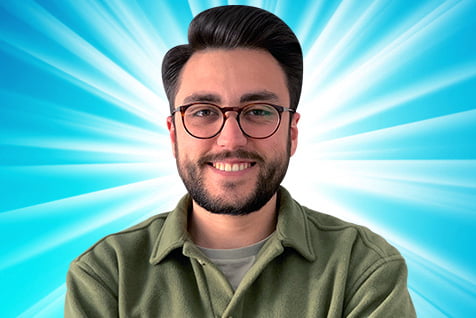 Patient Coordinator
Berat
Ask Now!
One of our patient coordinators will sincerely answer any questions you want to ask about Laminate Veneers. Laminate Veneers details, cost, reviews from other patients who performed Laminate Veneers surgery in Turkey before and results. Do not hesitate to ask all you want to know about Laminate Veneers surgery.
Laminate Veneers Cost
Cost of Laminate Veneers operation depending on various factors. Such as the brand of laminate veneer (e.max or zirconia etc.), quantity of veneers, experience of the doctor who will perform the Laminate Veneers operation, and the hospital equipment. In the table below, you can see the comparison of the price of Laminate Veneers operation between Turkey and other countries (USA, Canada, UK, Italy, Spain, Poland, Mexico).
| Country | Cost of Laminate Veneers starting from |
| --- | --- |
| Turkey | $300 per veneer |
| United States of America | $900 per veneer |
| United Kingdom | $1100 per veneer |
| Czech Republic | $600 per veneer |
| Poland | $500 per veneer |
| Mexico | $900 per veneer |
| Italy | $1000 per veneer |
As can be seen price comparison table Laminate Veneers operation cost in Turkey starting from $300 per implant and it's 60% more economical comparing with the prices in USA, United Kingdom and Europe. The cost of plastic surgery in Turkey is lower than in the UK, USA and Europe, but the low operating costs does not mean that the quality of medical service is low quality. For this reason Laminate Veneers one of most popular surgery in Turkey and nearly 20.000 Laminate Veneers surgeries are performed in a year.
The main reasons why patients choose Turkey to have Laminate Veneers surgery:
All Inclusive Package Price: The most important criteria that people who want to have a Laminate Veneers operation look for and want in terms of price is clarity. Turkey has a price advantage compared to Europe, America or UK with its quality treatment, accommodation, transfer services and all-inclusive price. As TravelMEDI, we would like to remind you that within the Laminate Veneers treatment, treatment costs (such as surgeon fee, medication fee, equipment fees, hospital fee, test fee), accommodation fee, transfer fees between the hospital and the hotel or the airport and the hotel are included in the operation price.
High Level Healthcare System: Turkey was one of the rare countries that did not experience a crisis in the health system even during the pandemic period, because it has large-scale and systematic health institutions (hospitals, number of experienced doctors, private clinics, well-equipped nurses and assistants). As TravelMEDI, we offer our patients the maximum health service at the most affordable prices in cooperation with experienced specialist doctors and highly equipped hospitals.
Laminate Veneers Before-After Results
Some of those who has preferred TravelMEDI to have a new beginning to their life by having a Laminate Veneers procedure in Istanbul, Turkey.
Testimony from Verified Patients
Laminate Veneers Reviews
Reviews of our patients who prefer TravelMEDI for Laminate Veneers operation around the world and their Laminate Veneers experience.
G. Duskin
All of their implants are of the highest quality, and they offer a wide range of customization options. Additionally, their implant quality is best in the business, which was evident by the amazing results I experienced.
Devereaux C.
I was extremely impressed with the ease of which I was able to get an appointment and the professionalism of the staff. The implant process was quick and painless, and I woke up feeling like a new person.
Leo Corrales
I recently appointed from TravelMEDI for dental crown. They were very professional and took care of everything quickly and efficiently, process was simple and painless, and the end result was a beautiful and shiny dental crown.
Niccolo Rastelli
I highly recommend TravelMEDI's medical service. It is excellent value for money and provides great quality medical service. I am looking forward to my next appointment in Istanbul!
Mrs. Blanch
Before coming to Turkey I had some concerns but as a result of our conversations with Mr. Berat I came and had laminate veneer and various procedures, the whole process was much better than I expected, I recommend!
Most Popular and Frequently Asked
Laminate Veneers Questions
No, they do not. Daily habits such as brushing and flossing would be enough in this case. Even though they are not likely to have any discoloration, your dentist may warn you to stay away from excess consume of coffee, tea.
Once it is applied, there is no need to change them after. It is for a lifetime. They stay the same even though years pass, as they are not affected easily by consuming coffee,tea or smoking.
Laminates are basically attachments onto the teeth. After the placement with medical adhesives, it is very hard for them to fall off. However, patient should not bite into really hard foods in order not to damage the veneers.
They are thinner compared to the other versions.
No need for using any needles.
No need for tooth reduction on condition that your teeth structure is suitable.
Completed in 2 sessions or less.
It can be detached easily.
Completely pain-free procedure.
It cannot be applied if the patient has advanced crooked teeth, teeth grinding habit or anatomically is unable to close his/her mouth.
You have to end your habit of teeth grinding. You should not bite any hard food that you can not bite with your original teeth. You should brush your teeth regularly, and most importantly, you should not ignore visits to your dentist.
Both are strengthened porcelain materials that do not contain any metal and have the best compatibility with tooth gums. Usually for the frontal teeth e-Max veneers are recommended, whereas zirconia veneers are recommended for the molar teeth as they are slightly harder and more durable.